Data is like oxygen for digital processes - without it, nothing works. This also makes it a key driver
for the performance of virtual product development. Anyone who uses intelligent data management and smart analysis tools will gain added value from the rapidly growing volumes of data.
We show you how.
Request information now
Holistic approach

We provide you with comprehensive support on your way to efficient data analysis: We provide comprehensive advice on the selection and integration of a Simulation Data Management System (SDM) and identify the best solution for the efficient analysis of your data. Our experts will find customized concepts as well as targeted methods and technologies for the smooth operation of these systems.

The goal: You make optimal use of the value of your data.
State of the Art: Benefit from the latest technologies, components and methods.


Optimal integration: We configure data flows

and transformations, take care of the control of the processes as well as process automation and link interfaces (e.g. REST).

Tailor-made customizing: We develop connectors for company-specific data sources and types, check all processes and the quality of the analysis results.


Automated rollouts: We install and configure the analysis software and connect visualization systems using DevOps for continuous development.


System and application management: We take care of administration and patch management, monitoring and error analysis including incident processing and correction.


DATA MANAGEMENT

THE DEVELOPMENT PROCESS
OF THE FUTURE IS DIGITAL

---
CAE applications are the key technology for bringing products to market quickly and cost-effectively. This results in large amounts of simulation data from individual disciplines, which are digitized and fed into computer-aided product data management systems. Professional management increases the availability of this data and thus significantly accelerates simulation processes.
A fundamental challenge for smart data management is the intelligent administration of information.
Our SDM solutions therefore integrate smoothly into existing system landscapes. Because only intelligently
connected data helps to make better business decisions and develop new business models.


DATA ANALYTICS & AI

GET MORE
FROM YOUR DATA

---
Digitalization is causing data volumes to grow rapidly. The transformation of data from virtual product development, AI applications and the Internet of Things (IoT) are essential for companies. The complex relationships between data can hardly be captured with conventional analysis methods. The challenge is to develop an IT infrastructure that automatically analyzes the newly generated data and compares it with the existing database.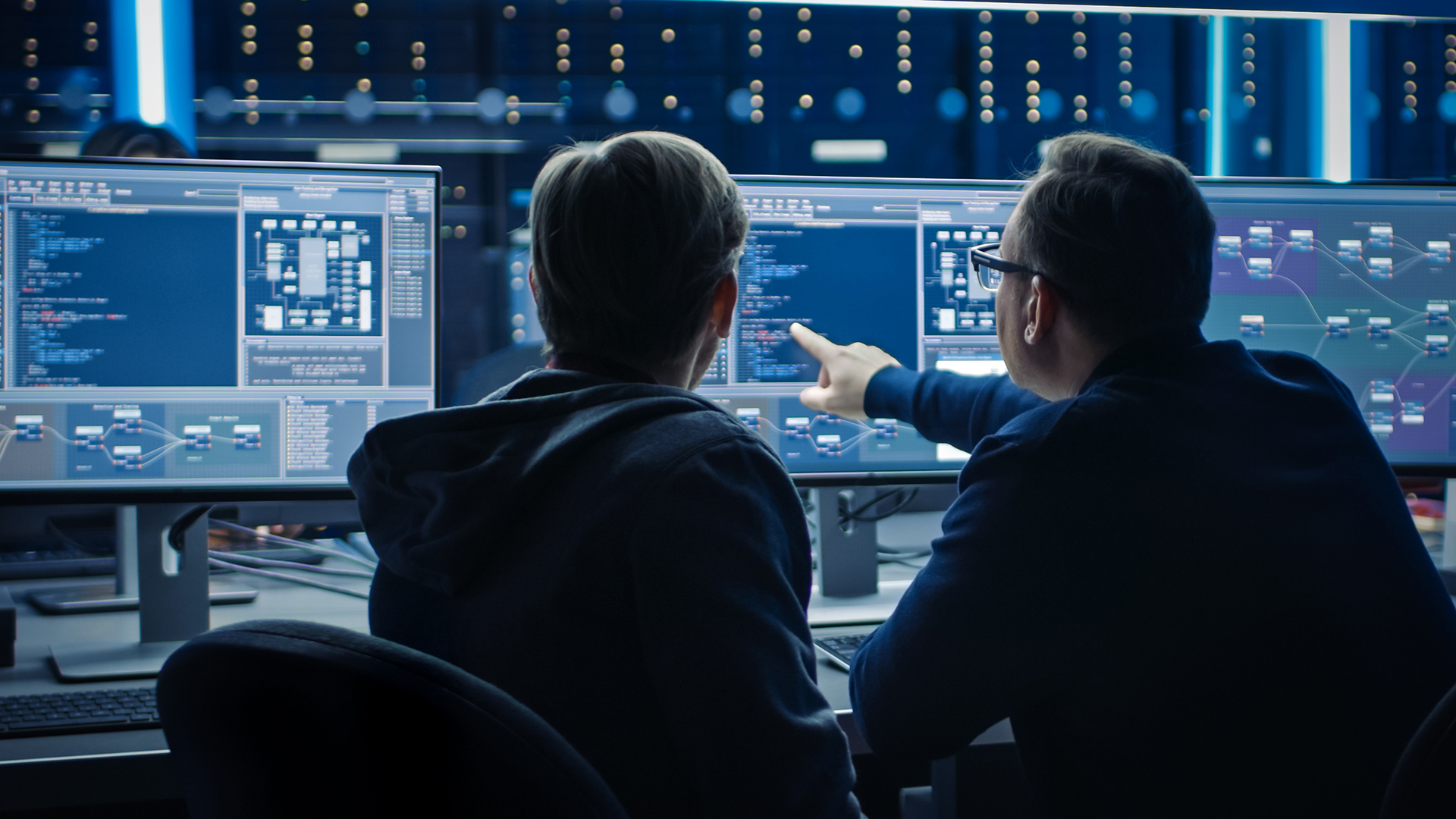 Early identification
of terminations

---
Smart use of data analytics and AI algorithms in simulation processes shows early termination criteria. Users receive reports on conspicuous results or important monitoring values. This saves time and resources in cost-intensive engineering processes.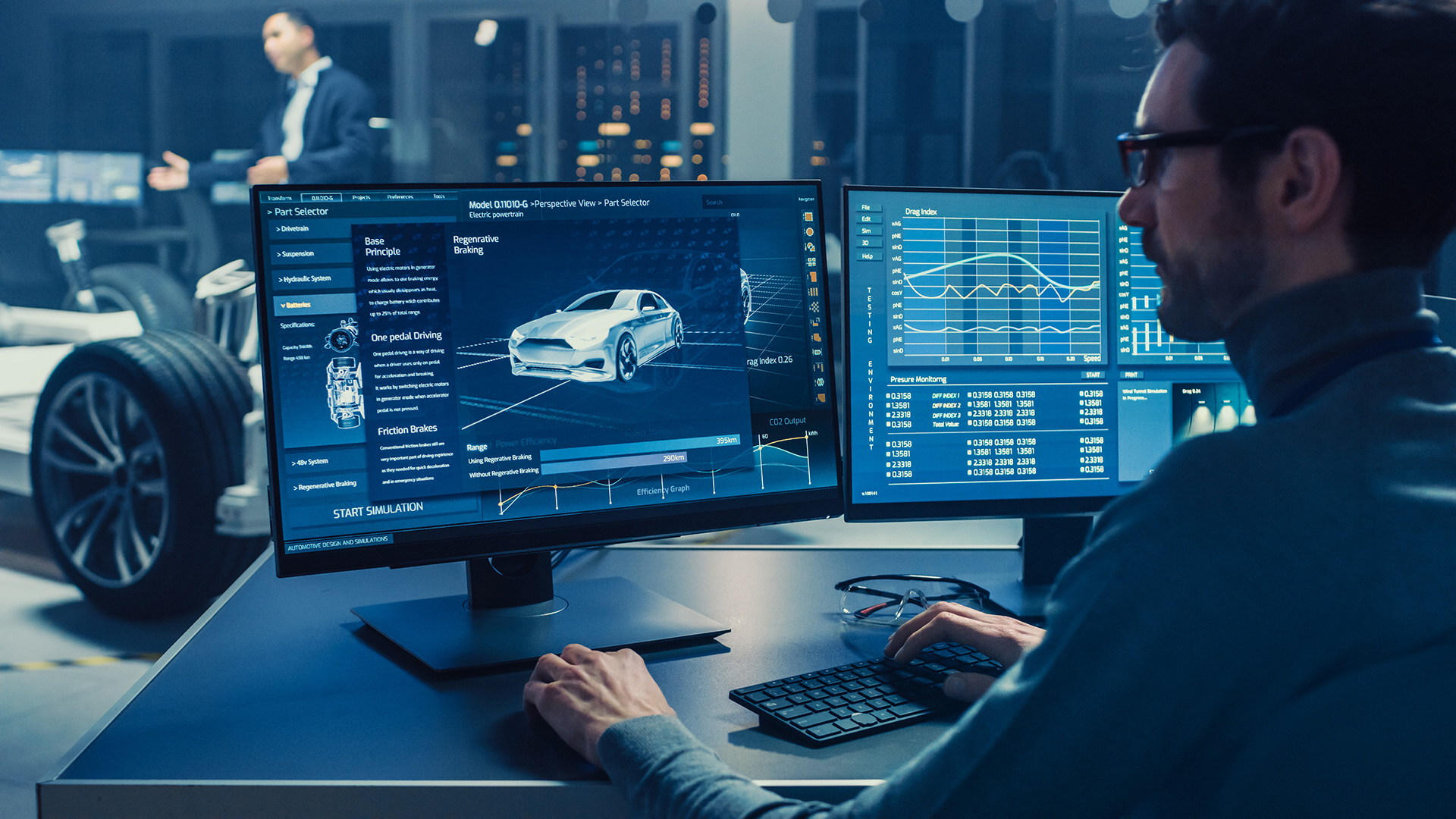 Decision Making
support

---
Multifunctional analysis systems also include software tools that apply the essential procedures of data analysis. Thus, clever analysis methods turn simple data into actionable insights that contribute to the targeted optimization of company results.
360° Data Analytics
---
GNS Systems supports you holistically in your data management.
We advise, develop or take over the entire process.

Mastering the challenges
of digital transformation


The increasing complexity of calculations, IT processes and infrastructures is already being met by many companies with smart data management. Customized analytics and automation solutions transform the mass of data into meaningful and usable information.

Individual data strategy:
Generate maximum added value from data on the basis of artificial intelligence

Significant increase in productivity:
automation for optimal data management - even in the cloud

Cross-site collaboration:
All participants work on the same data

Increase the value of simulation data:
Metadata, relations, traceability of data for optimal storage and analysis

Central data storage with rights/role management:
backup, encryption, retention policies using state-of-the-art data structures

Gain in engineering capacity:
automation of routine processes, more efficient data search, no need to regenerate data

Managed Service:
Individual, platform independent services for your specific application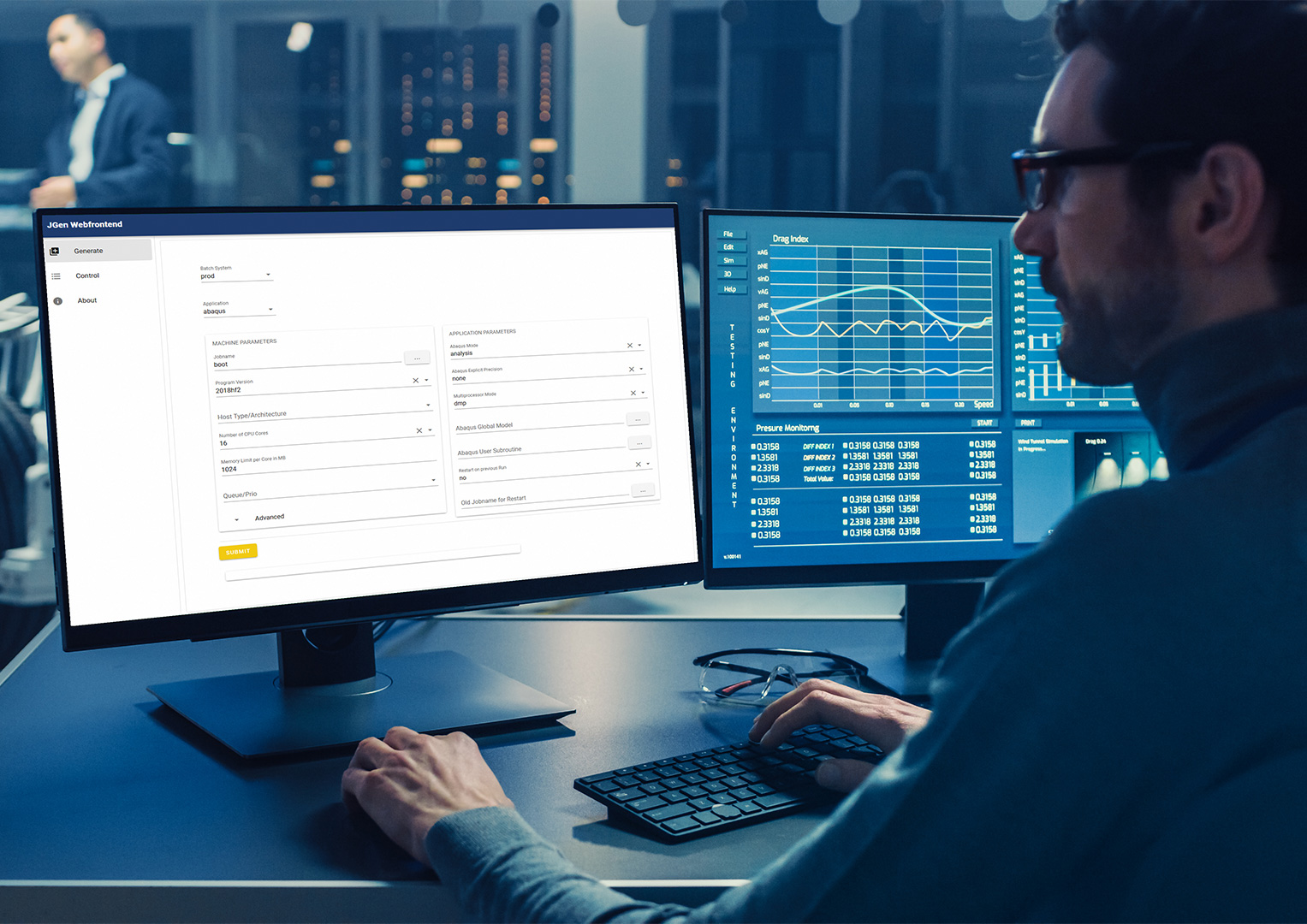 Automated
job workflows


With JGen engineers create the jobs of CAE applications easy and fast. The tool allows a flexible adaptation of jobs to the individual workflow and reduces the effort in job creation considerably with clever functions.
Learn more
Highest reliability in one tool
Increases the reproducibility of the calculation results
Detects errors via automatic checking and reduces Job aborts

L

ocalizes and corrects errors quickly and easily

Helps to use Compute and Support resources much more efficiently

A user-friendly interface supports the organization of applications, batch systems and parameters